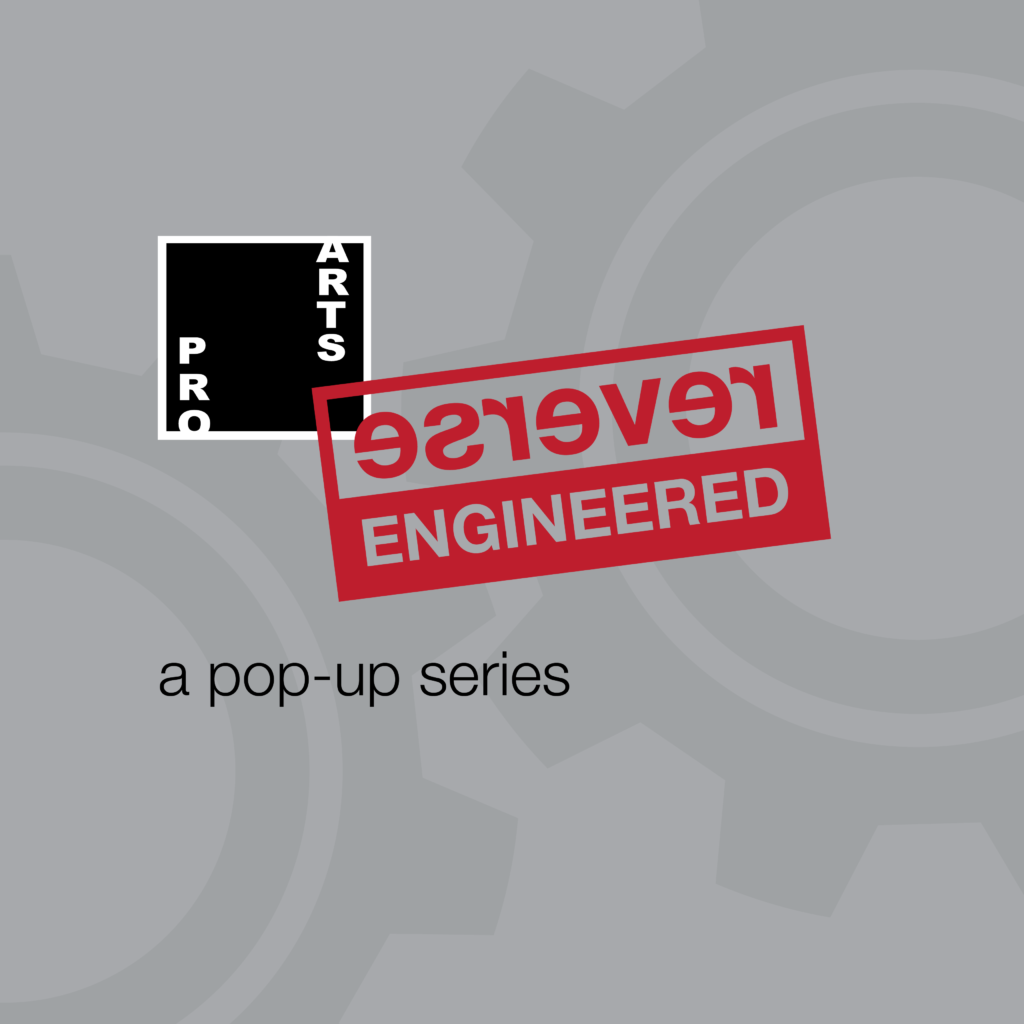 Reversed Engineered
September 30 – October 30, 2021
ART150 Gallery
150 Bay St. Ste 265, Jersey City, NJ
Opening Reception:
Thursday September 30, 6:30 – 9pm
To coincide with the JCAST kick off party!
Hours during JCAST
Fri Oct 1, 12-6pm
Sat Oct 2, 12-6
Sun Oct 3, 12-4
Hours for the month of Oct
Saturdays and Sundays, 1-4pm
Curated by: Catalina Aranguren
Reverse Engineered was born to address the uncertainty of when an expected construction project would begin in the Pro Arts exhibition space, ART150 Gallery. Pro Arts was told that although they could use the gallery, they may need to take down the show at any given moment. The situation could be hard on an artist who went to great lengths to create and prepare work for an exhibit only to have it up for a short amount of time, so I asked artists to submit work that was already finished and ready to hang. Normally a curator comes up with a theme and then seeks work to fit it, but in this case I worked backwards and picked the theme based on the work submitted. For this show I chose __ artists who submitted a body of work that showed a commitment to their own cohesive thought process.
About the curator: Catalina Aranguren is a photographer and the founder of Walk Bye, an organization that produces public art installations. Aranguren created Walk Bye during the 2020 pandemic in response to her frustration at being unable to visit museums and galleries. Currently Aranguren has produced thirteen Walk Bye events, this is her first time curating for Pro Arts.
Artists
K Brown, Guillermo Bublik,Dorie Dahlberg, Aaron Dunkel, Andrea Epstein, Jim Fallon, Jim Fischer, Susan Evans Grove, M. Malcolm King, Megan Klim, Robert Lach, Beatrice M. Mady, Charlann Meluso, Nupur Nishith, Harold Olejarz, Laurie Pettine, Jean-Paul Picard, Lucy Rovetto, Vincent Salvati, Theda Sandiford, Karen Starrett, Tejaswini, Brad Terhune, Mollie Thonneson, Kimberley Wiseman