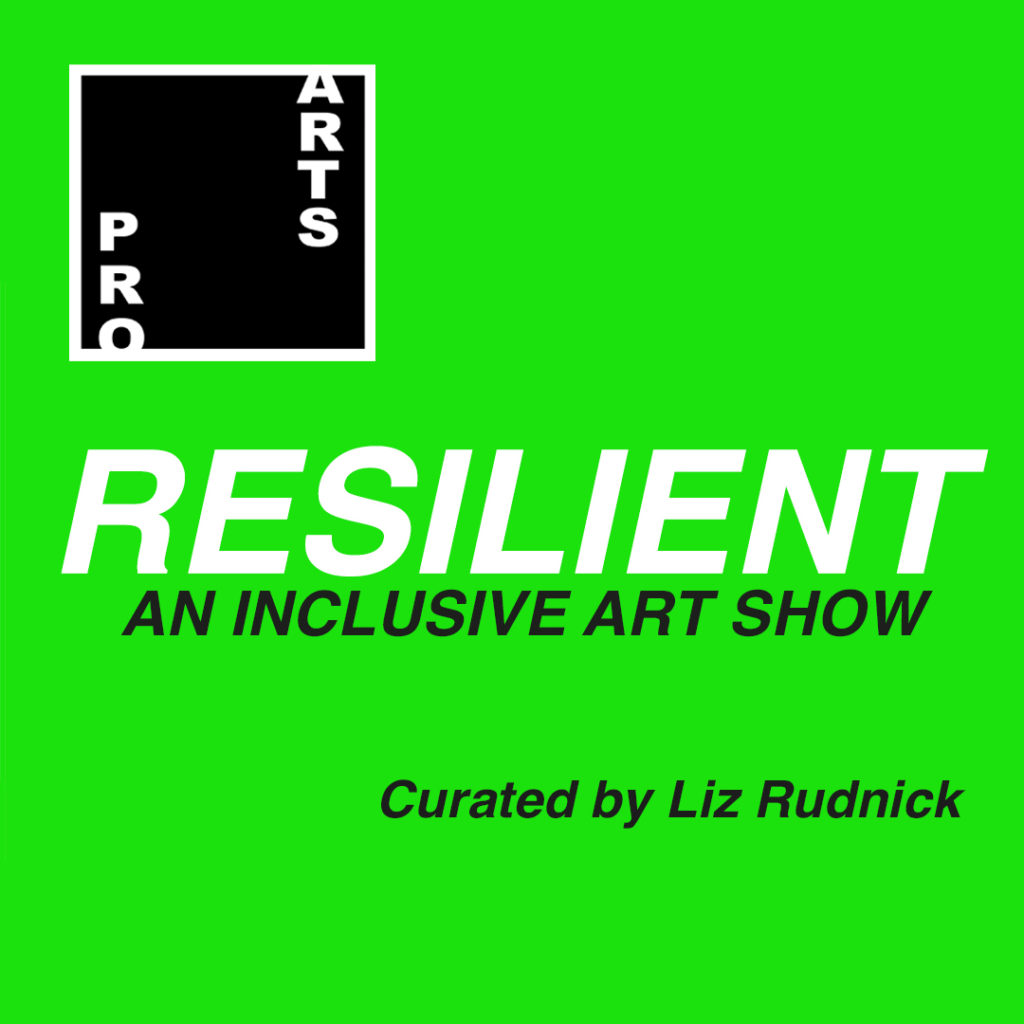 Curated by Liz Rudnick
Virtual Exhibition June 4, 2021 – July 31, 2021 HERE (Link to virtual show)
Watch the Access JC Fridays Feature HERE (Link to youtube video)
Read the Exhibition Catalogue HERE (Link to Publication) 

RESILIENT presents work that addresses the unique visible and invisible challenges faced by many artists. From Frida Khalo, Chuck Close, and Vincent Van Gogh to Henri Matisse, Jean Michel Basquiat, and Judith Scott, art history has been constantly enriched by artists whose physical and psychological experience of the world required resilience. In fact, few individuals have led lives completely untouched by mobility impairments, sensory impairments, learning disabilities, neurodiversity or mental health challenges, chronic illnesses, addiction, or chronic pain. Yet, opportunities to center these experiences and the significant works of art that result from them remain scarce.

RESILIENT features 21 artists whose work has been informed by disability in some way. Whether the work centers people with disabilities in theme, performance, or the creation of the artwork, RESILIENT is an opportunity to bring difference to the fore. 
Featured Artists:
Sibyl Archibald
Alaine Becker
K Brown
Sunny Chapman
Aaron Dunkel
Jim Fallon
Georgia Hourdas
Valerie Huhn
Robert Kosinski
Terry Lively
Snow Mack
Juliet Martin
John Piccoli
Andrea Raphael
Akil Roper
Trix Rosen
Francisco Silva
Sammy D. Smith
Mollie Thonneson
Alan Walker
Rachel Reynolds Westerwelle

Online exhibition: June 4 – July 31, 2021
Virtual Feature on Access JCFridays, June 4, 7PM – 8PM
Register for your Zoom link at www.jcfridays.com
Or Facebook live https://www.facebook.com/events/448876649757944