MEET THE CURATORS, April 9th , 2016, Jersey City Hall, 280 Grove St.,Jersey City, NJ 11AM-3PM portfolio reviews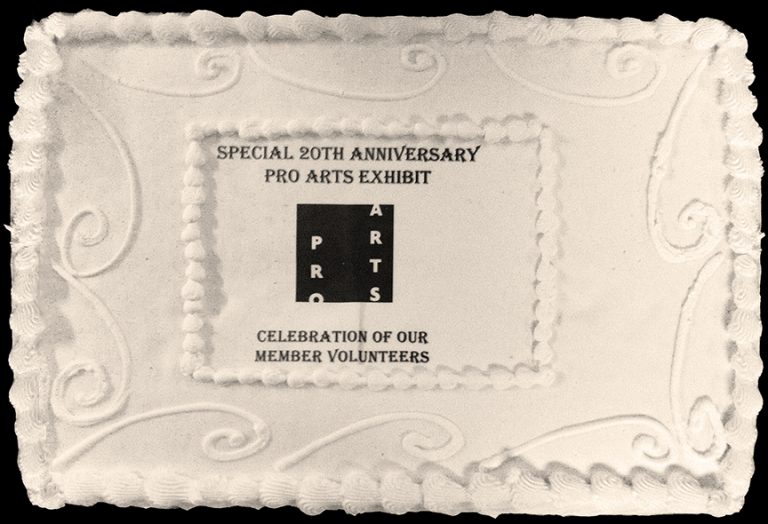 Thanks to All of Our Pro Arts member Volunteers Whose Work Is Exhibited in Our Anniversary Exhibit Jersey City Hall January 2014
| | | |
| --- | --- | --- |
| Vince Salvati | Sidney Montanez | Peter Kapelyan |
| Tatiana Lopez | Tatiana Lopez | Emmaluz Tiongson |
| Bea Mady | Beatrice Mady | Arlene Bassis |
| Mollie Thonneson | Caridad Kennedy | Joan Marie Palmer |
| Leona StrassbergSteiner | Cynthia Kwarula | Edmund Jan Kounitz |
| Alan Walker | Monique Sarfity | Abby Levine |
| Kay Kenny | Carla Cubit | Monique Sarfity |
ART EAT-UP JULY 10TH, 2013 CULINARY ART INSTITUTEArt Eat-Up
Pro Arts Eat-Up is a grants process that gives an artist an unrestricted financial resource to realize a visual arts proposal, whether it is for one piece or an entire body of work. The grant may provide materials, equipment or even living expenses while the artist completes the project.Art Eat-Up is grassroots funding at its best: donations for the community dinner go directly to funding art-makers whose proposals draw the most votes from the diners. The process is purposely simple: Anyone can submit a proposal to Arts Eat-Up. Community participation in the grant selection process is the key: through this process we hope to stimulate and support experimental, critical and imaginative projects that may not be eligible for formal funding.Art Eat-Up connects artists with artists, artists with the community, and the community with each other during Art Eat-Up dinners. It provides artists the opportunity to begin marketing their work before it is made. It creates momentum and awareness for art projects promoted during the event and possibly realized with the help of the Art-Eat-Up grant.
Pro Arts Jersey City Portfolio Review: Saturday, April 20, 2013

What do curators look for when selecting artists? How does a visual artist get their foot in the door when approaching galleries? How can your work stand out in a competitive market?Pro Arts Jersey City invites you to gain valuable feedback on your portfolio in 20 minute one-on-one review sessions from prominent figures within the arts community that include:• Kathryn Markel, Director of Markel Fine Arts, NYC
• Margaret O'Reilly, Curator of Fine Art at the New Jersey State Museum in Trenton
• Ann Aptaker, Independent Curator and Former curator of Exhibitions at the Morris Museum
• Virginia Butera, Director of the Therese A. Maloney Art Gallery
• Judith Page, Curator, Writer and Arts Educator
• Jeanne Brasile, Director of Walsh Art Gallery Seton Hall UniversityLearn how to present your artwork with impact and discover new insights into your creations from industry professionals in a supportive and objective environment. Presented artwork will be handpicked from participating portfolios for an upcoming Reviewers' Choice exhibition."I've been to many portfolio reviews and I find them to be an invaluable tool for artists. The art world is a very small space and connections are key. These reviews provide artists not only with valuable feedback on their work but also a way to network and build their community."- Krista Svalbonas, participant in last year's Portfolio Review event……………………………………..
Registration is available on a first come, first serve basis. The cost to participate is nominal, and will provide you with feedback that you can immediately apply to your work to secure more art shows and sales.
_____________________________________________________________________________________________________
Pro Arts Career Development Weekend Jan. 14th & 15th 2012 A Big Success
PRO ARTS JERSEY CITY in partnership with STUDIO 371 Presented PORTFOLIO REVIEW/ ARTIST CAREER DEVELOPMENT WEEKEND
Pro Arts introduced its one-on-one portfolio review sessions on January 14th, 2012.six (6) accomplished NJ based Gallerists, and Museum Affiliated Curators reviewed Visual Arts Portfolios in one-on-one sessions with the artists for 20 minutes each.Each of the six (6) reviewers selected an outstanding portfolio. Coming soon: The six (6) selected artists in an exhibit: "Curator's Choice" – At Studio 371 Gallery. The Reviewers are Ann Aptaker (Independant Curator), Mary Birmingham(Curator of the Visual Arts Center of NJ), Dr. Virginia Fabbri Butera (Director, Theresa Maloney Art Gallery, College of St. Elizabeth), Sean Carroll ( Program Manager for Artist Residencies at Lower Manhattan Cultural Council (LMCC) ), Evonne Davis (Director, Gallery Aferro Newark,NJ), and Margaret O'Reilly (Curator of Fine Art,New Jersey State Museum in Trenton). for more information on the curators click here Bio_Portfolio_Reviewers
Lynn Saville Showing her work to Mary Birmingham
Part 2: January 15, 2010– THE ARTIST ONLINE – ONE DAY WORKSHOP
The internet offers many social tools to create and nurture a supportive network, while also providing innovative ways to generate revenue. Carla Lynne Hall, Moxie Maven Marketing provided a free workshop on using the internet for Pro Arts Jersey City.
_____________________________________________________________________________________________________Pro Arts members: Ibou Ndoye, Gailene St Amand, Sharon Harvey, Deirdre Kennedy & Christina Soto (& Holly Williams) displayed & sold their work in the Pro Arts tents at Everything Jersey City Festival, May 21st (to see samples of their work visit the members galleries)

Pro Arts Jersey City collaborated with Parlay Studios by providing free photo portraits to the crowd at the May 7th Adopt-A-Lot Program at City Hall, Jersey City
Pro Arts Jersey City held its third Art Eat-Up Friday, January 14, 2011
at Grace Van Vorst Church, 39 Erie Street, Jersey City, NJ.
____Finalized projects will be on display at the following Art Eat Up and on the website.http://www.proartsjerseycity.org/events/Click here for the artist applicationFurther information is available by writing to arteatup@gmail.com or calling 201-736-7057.Pro Arts Is Pleased & Proud to Unveil the FireHouse Table Project May 2010
In the fall of 2008, Jersey City Fireman Rob Daly saw an article in the NY Times about a firehouse kitchen table whose surface displayed a gorgeous mural painted by a local artist. Rob knew about Pro Arts and called us. He explained that we were just the organization that could do something like that to their newly acquired half a bowling lane that was slated to be their new kitchen table in their newly renovated firehouse at Van Nostrand and Bergen Ave.
Pro Arts began a fund-raising effort to provide for materials and a small honorarium for the artist. With the help of Councilman Steve Fulop, Ira Rubin (staff photographer & archivist, JC Fire Dept), The JC Firefighter's Emerald Society, The JCFF Italian American Society, and Submarinos Restaurant, we raised $550 which basically covered the cost of the materials. The Jersey City artists Rebecca Feranec, Eileen Ferrara and Jasmine Graf met with Rob and the firemen to begin work on the design. All the artists are Pro Arts members. After a long period of planning, the table was moved to 430 Communipaw Ave., where building owner Marc Wesson donated an empty space to paint the table.
The table itself requires 6 firemen to lift it. It is a hardwood slab, approximately 2 " deep, 14' long and 4' wide. The mural is now completed. It is an amazing montage of fire house, fire engine, and Jersey City history. Eileen Ferara and Jasmine Graf were the chief designers and painters. Help was provided along the way by a host of volunteers. The firemen recycled several fire hydrants for legs to the table. The hydrants are currently being renovated and resized for the purpose.Pro Arts thanks our artists who's many months of work is finally materialized in this fabulous mural. We are pleased and proud to have been invited by JC Firefighters to realize this creative project.________________________________________________________________________________________________________