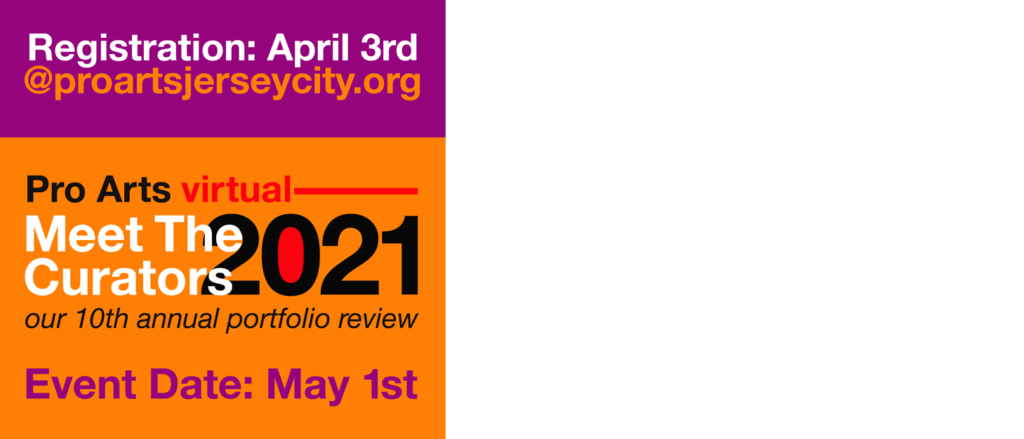 DATE: Saturday May 1, 2021
Registration opens: Saturday April 3, 2021 @ 11am [CLICK HERE]
*See below for pre-meeting requirements
Pro Arts is proud to announce our 10th annual Meet the Curators event designed to connect artists with prominent gallerists and curators for 20-minute, one-on-one portfolio reviews. This is our most popular event with many artists participating annually to gain insight and feedback of their work. Meet the Curators is also an important networking event as many great connections are made. You never know where those connections will lead! In the past, participants have shown their work in reviewers' galleries, have sold their work from resulting exhibitions, or simply became part of the growing New Jersey/New York Metro area art scene. Don't miss this exciting professional development opportunity to advance your artistic career.
Following the last review of the day, the curators will choose their top-pick portfolios. The selected artists will be invited to participate in the prestigious annual Curators Choice exhibition tentatively scheduled for July 2021 at ART150 Gallery.
2021 reviewers:
Zsolt Bátori, PhD, Curator, ph21 Gallery *International Gallery: Focus on Photography*
Anonda Bell, Director & Chief Curator, Paul Robeson Galleries, Rutgers University
Ivy Brown, Owner and Curator, Ivy Brown Gallery
Virginia Fabbri Butera, PhD, Professor of Art History, Director of the Therese A. Maloney Art Gallery, College of Saint Elizabeth
Lisa DuBois, Curator, XGallery Harlem
Jo-El Lopez, Independent Curator and Artist
Christopher & Cheryl Mack, Owners, Bridge Arts Gallery
Laura Bonas-Palmer, Co-Owner and Curator, Akwaaba Gallery
Ulysses Williams, Executive Director and Curator, ArtCrawl Harlem
Click here to read the curator's biographies.
Click here to read the curator's biographies.
* To prepare for your review please submit the following PDF files by April 21, 2021 to contact.proarts@gmail.com
1. PDF of Artist's statement: In 250 words or less, written in first person, please describe the general direction of you work or a statement specific to the work you are presenting for review.
2. Artist's CV:
a. Name, email address, telephone and social media sites at top
b. Education, artists' residencies and workshops–Most recent going backwards
c. One and Two-person shows (most recent first going back chronologically)
d. Groups shows (most recent and back)
e. Awards, fellowships, honors;
f. Teaching and/or related employment
3. Images: A Power Point or Google Docs or PDF of 10 – 15 clear images. UNDER (not above) the images, include captions: Title, Year completed, Medium, and Size.
Artists can register for up to 3 reviews.
Fees:
Pro Arts members:
• $20 for the first review
• $35 for each additional review
Non-members:
• $50 per review
• Register for 2-3 reviews get one year of free membership to Pro Arts (artist-membership subject to approval from Membership Committee).
For questions regarding registration please contact info@proartsjerseycity.org