Anonda Bell
Anonda Bell is a New Jersey and New York based curator and artist. Born in Australia she has lived in the USA since 2005. She is currently the Director & Chief Curator of the Paul Robeson Galleries, at Express Newark, Rutgers University. Previous curatorial work in the not-for-profit sector includes work in New York at the Chelsea Art Museum and Snug Harbor Cultural Center, at the Everhart Museum of Fine Art, Science and Technology, in Scranton, Pennsylvania. In Australia she worked at the National Gallery of Victoria in Melbourne and Bendigo Art Gallery. Her education has been undertaken at Rutgers University in the USA, and in Australia at Monash University, University of Melbourne and RMIT University, Melbourne.
Cheryl and Christopher Mack
Owners
The Bridge Art Gallery
Cheryl and Christopher Mack are the owners of the Bridge Art Gallery, founders of the Bridge Arts Festival and publishers of the Bridge Arts quarterly publication. Cheryl and Christopher strongly believe in the power of the arts to transform communities.

Together they utilize their years of professional experience of event planning, creative design and marketing to curate year-round quality arts entertainment. Together, the Macks locally produce monthly art exhibitions at the Bridge Art Galler that showcase regional and national visual artists; they produce the summer performance series "Art in the Park" at First Street Park every Thursday from May to August; and they produce the annual Bridge Arts Festival in September. The Bridge Arts Festival has grown into a destination event where attendees from around the region are able to enjoy the beauty of Bayonne. Nestled along the waterfront with the Bayonne Bridge as the backdrop, the Bridge Arts Festival demonstrates that the City of Bayonne is more than just a bridge.

All of the Bridge Arts activities conceptualized by Cheryl Mack and her husband Christopher Mack are focused on reducing the distance that Bayonne residents must travel in order to enjoy quality arts entertainment.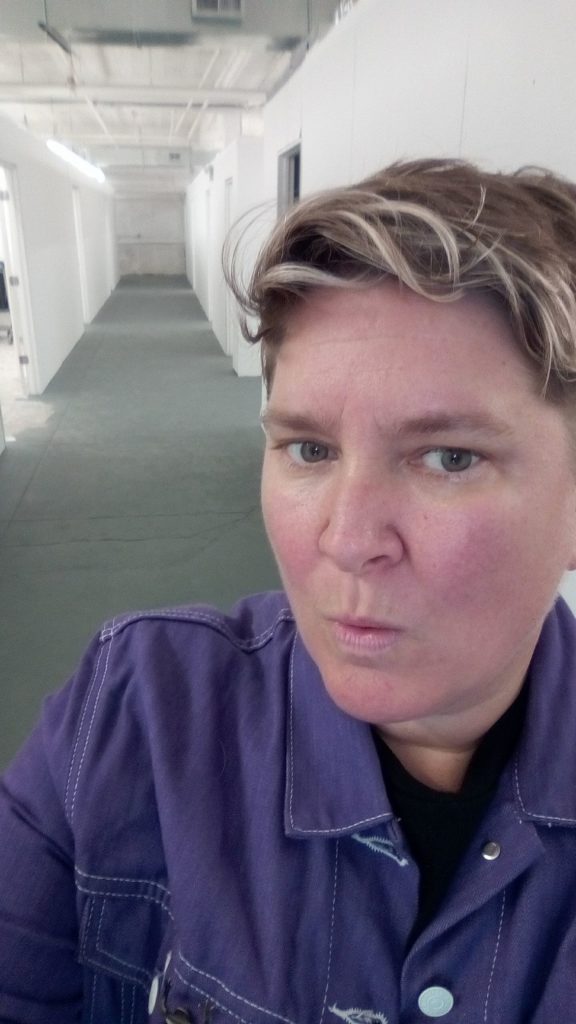 Donna Kessinger
Donna Rae Kessinger is a working Artist and Curator, based in Atlantic Highlands, NJ, whose focus is mainly on projects that encourage collaboration between artists and communities, resulting in a marriage of art and commerce in the form of a possible intervention / performative work, public art project, or traditional gallery exhibition. Exhibitions are often augmented with lectures, panel discussions, workshops, and interdisciplinary events. Programs include juried, curated and invitational exhibitions, featuring the work of regional, New York, and international emerging, mid-career and established artists. She is currently the Executive Director of the Monmouth Museum and also curates + manages the CHA Matawan; Space to Create and Present ChaShaMa Programs in Matawan, NJ. Past work includes Exhibitions Coordination of PS1's first Greater New York with Klaus Biesenbach, Around New York with Carolyn Kristoff Bakargiev, and Summer Warm-Up Parties among others.
Eileen Jeng Lynch
Eileen Jeng Lynch is the Curator of Visual Arts at Wave Hill, where she organizes the Sunroom Project Space for emerging artists, co-curates exhibitions in Glyndor Gallery, and is involved in all aspects of visual arts programming, including publications and the annual Winter Workspace program. 2019 exhibitions at Wave Hill include Here We Land, Figuring the Floral, Kate Bae: Possible, Between and Together, Riad Miah: Waves of Light – Entwined Through the Tendrils of Time, Emily Oliveira: Mundo Irrealis (Wish You Were Here), Duy Hoang: Interarboreal, and Bahar Behbahani: All water has a perfect memory., to name a few. Jeng Lynch is also the Founder of Neumeraki, which collaborates with artists, organizations, and galleries on curatorial, consulting, writing, and editing projects. Independent projects include exhibitions at The Yard: City Hall Park, LMAKbooks+design, Sperone Westwater, Lesley Heller Workspace, Dorsky Gallery Curatorial Programs, Garis & Hahn, and Radiator Gallery. In 2017, Jeng Lynch initiated the ongoing Give Voice Postcard Project. She has contributed to Two Coats of Paint and On-Verge. Previously, Jeng Lynch worked at RxArt, Sperone Westwater, and the Art Institute of Chicago in the Department of Contemporary Art. She earned her MA in Arts Administration and Policy from the School of the Art Institute of Chicago and BA in Art History and Advertising from Syracuse University.
Virginia Fabbri Butera
Virginia Fabbri Butera, PhD, is the Director of the Therese A. Maloney Art Gallery, atenured Professor of Art History, and Chairperson of the Art Department, the Dance and Music Minors, and the MA Program in Social Media Design and Management at the College of Saint Elizabeth in Morristown, NJ. She received her BA in
Renaissance Studies from Trinity College in Hartford, CT, her MA in History of Art from Johns Hopkins University and her PhD in Art History from the Graduate School and University Center of the City University of New York.

She has curated art exhibitions for more than forty years for museums and galleries such as the National Gallery of Art in Washington, DC, the Philadelphia Museum of Art, the Toledo Museum of Art, Yale University Art Gallery and other institutions around the country. She has
also organized shows at various New Jersey galleries such as the Arts Guild in Rahway, the Center for Contemporary Art in Bedminster, Gallery 14 Maple at Morris Arts in Morristown, and the Watchung Art Center. In February 2020, she will open her fortieth major exhibition, The Material World, at the Maloney Art Gallery. She has been awarded two NEA grants for multi-disciplinary programs, "The Phrase in Art" and "When Art and Science Collaborate," and private grants that support the exhibitions and programs of the Gallery. In May 2010, Dr. Butera was named Arts Advocate of the Year by Morris Arts, Morristown, NJ. She has published and lectured widely during her career.
Jo-El Lopez
Jo-El Lopez – Visual artist, arts advocate, and Curator. Jo-El has curated independent and affiliated exhibitions since 2010. His goal is to connect the urban audience with cultural experience in untraditional arts settings. He has been curating Newarks' Gallery Aferro, Activate: Market Street since 2011 which has received critical acclaim. Activate: Market Street is a yearlong exhibition that displays installations and two dimensional art in store windows at one of the busiest streets is Newark, NJ.

Some other shows include: The Store Front Gates Project and several murals and pop up shows for the City of Newark and Yendor Arts, several shows for Gallery Aferro, Newark Open Doors, Paterson Art Walk, Paterson Great Falls Festival, Newark Artfront Galleries, and Hoboken Diggable Arts Festival as well as other independence projects. He is currently the residence curator at Gallery Aferro. Originally from the Paterson, NJ area, he studied at Kean and Montclair State Universities. He has exhibited his works throughout the NY Metropolitan and Caribbean areas and his work is part of Newark Museum
Permanent collection.
Born in Juncos, Puerto Rico and raised in Paterson, New Jersey, Lopez uses the visual storytelling of traditional realism to convey complex commentary on the intersection of faith and modernity, the strength of family, and the multidimensional contemporary urban experience. The decades the artist spent under the Pentecostal doctrine, a bold color palette informed by both abstract painting as well as older traditions of icon-making, all meld to create Lopez's kaleidoscopic worldview. His artworks reveal a restless, deeply engaged spirit closely observing not only his immediate environment, but the larger historic trajectory of national news. Lopez asserts, "Originally, I studied business and fine arts at Kean University and at Montclair State University and was prepared for a life in the corporate arena.

But my life's journey has led me back to artmaking and my true passion. My work shows my voyage from that life choice to now." In just four years since leaving the business world to focus on art, Lopez's work has appeared regularly in tri-state area exhibitions at Gallery Aferro in Newark, NJ, The Bronx River Art Center, The Center for Contemporary Art Bedminster, NJ, Rutgers University in Newark, NJ, New Jersey City State University Gallery, Kean University, Rupert Raven Contemporary, and others. Currently he is a resident artist at Aferro Gallery in Newark, NJ
Judith Page
Judith Page is a nationally recognized artist, curator, writer and educator living in Brooklyn, NY. Over the past thirty years, Page has mentored hundreds of artists beginning with her tenure as Gallery Director at Valencia College in Florida; subsequently as founding Program Director of Aljira Emerge; through her initiation of Professional Practices courses at MICA; as a faculty member of the MFA Fine Arts program at SVA; and as a consultant for NYFA. She is currently Director of Programs for the Tree of Life Foundation. Page has also organized over 200 exhibitions, and written articles, essays and criticism for publications including Sculpture magazine and Art Papers, and institutions such as Rutgers University and Wake Forest University.
As an artist, Page received Individual Artist's Fellowships from the Gottlieb Foundation in 2012 and 2002, from the Pollock-Krasner Foundation in 2005-06 and 1998-99, and from the State of Florida in 1992-93 and 1983-84. Her art was written about in numerous publications including Art in America, The New York Times, and Sculpture, and she has exhibited her work at museums and galleries in New York, NY; Miami, FL; Cologne, Germany; Ridgefield, CT; Itami, Japan; Ghent, Belgium; Budapest, Hungary and Los Angeles, CA.
Laura Bonas Palmer
Laura Bonas Palmer is co-owner and curator of Akwaaba Gallery in Newark, NJ. With her husband, Ray Palmer, Laura has established a new focal point gallery that has featured both museum collected artist and up and coming artistic talent from around the world. "Akwaaba" which means "welcome" is a warm space that encourages color, concept and expressive artistry.

Throughout the year, Laura produces thematic exhibitions that speak a language of beauty, cultural relevance and artistic sensibilities that cross age barriers, genre and ultimately bring the artist and collector together.

With a keen eye for detail and a deep appreciation for bold and electrifying color, Laura is known for showing a myriad of styles of work within a show, providing lots of opportunities for artists.

Determined to be a part of building their community, Laura and Ray, both Caribbean immigrants, opened the first art gallery to the Newark West Ward. Akwaaba Gallery is a hidden Newark gem located in the historic Fairmount neighborhood and features diverse works of contemporary art. Akwaaba's mission is to engage the community and public with exhibitions featuring emerging local, national and international artists.
Wilson Duggan
WILSON DUGGAN is a curator, artist, and arts administrator living and working in New York. Duggan is the Co-Founder and Managing Director of SHIM Art Services, a Brooklyn-based organization that offers alternative models and resources to artists, curators, and other groups and organizations seeking assistance with their exhibition projects. Since 2013, Duggan has curated dozens of exhibitions in the NYC area, ranging from focused solo exhibitions of work by prominent contemporary New York City artists such as Denise Green, Kurt Steger, Curtis Andrews, and Christopher Stout, to wide-ranging group exhibitions that often borrow aesthetics, formats, and practices from a variety of other fields, including psychology, data science, technology, and the internet. Duggan received his B.A. in Art History from Fordham University in 2011.