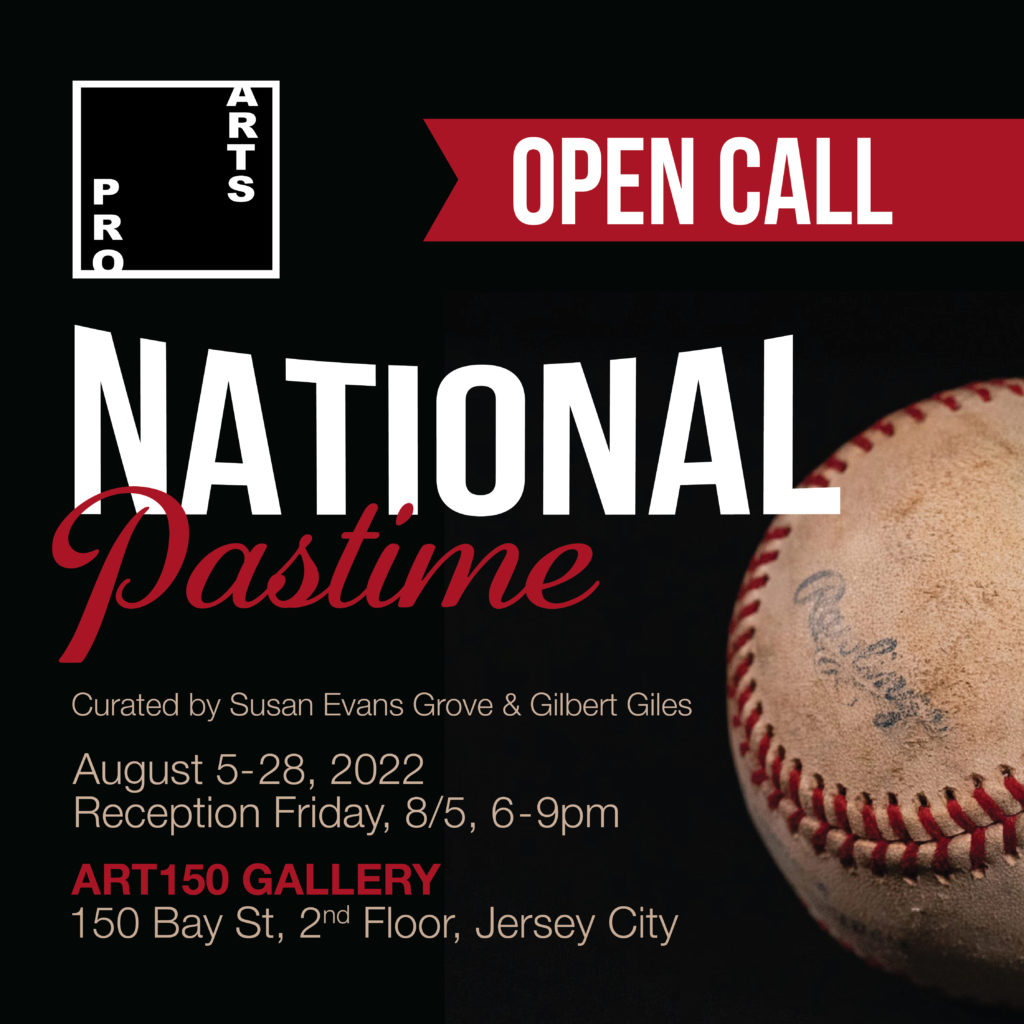 National Pastime
Curated by Susan Evans Grove and Gilbert Giles
Baseball is often referred to as America's Favorite Pastime. Since the first game was played in Hoboken on June 19, 1846, baseball has mirrored the American way of life. When war was upon us and men were sent to foreign soil to fight, women stepped in and played the game just as they stepped into factories to fill the void there. Racism was deeply embedded in the game with a separate Negro League until Jackie Robinson broke the color barrier by signing with the Brooklyn Dodgers. As America became faster and bigger, so did baseball. Performance enhancing drugs crept into the dark sides of the game just like they did in everyday life.
We invite you to submit work that uses baseball in a personal, political, historical, or societal message. What does baseball mean to you personally? How does baseball track the progression of American Society over time?
This show will be curated by the Twins. The Twins in this case does not refer to the team that play at Target Field but rather are two artists Gilbert Giles and Susan Evans Grove who were born on EXACTLY the same day. Both of whom have a deep affection for the game and a deep personal connection to it. Both of whom have made work in connection with the game.
All mediums will be considered.
Exhibition dates: August 5 to August 28, 2022
Opening reception:
Friday August 5, 6 – 9pm
Location: Art150 Gallery
150 Bay Street, Jersey City, NJ
Deadline to submit: July 15, 2022
Who is eligible to participate:
This is an open JURIED call. Pro Arts members and non-members can submit.
Submission fee:
FREE for Pro Arts members – up to 3 images
$25 for non-members – up to 3 images
Your submission fee can be paid via any Donate or Paypal button at
www.proartsjerseycity.org
Submit online here: https://forms.gle/mLJhdJFza6RcNm2U9
On the submission form you will be asked to:
IMAGE requirements:
Label images: Lastname_Firstname_title_medium_size_price.jpg
Image size: Image size: 72 resolution no larger than 1200px on longest side
Upload Bio and Statement:
14 pt. typeface. Together they should fit on one page. Make sure your name and any contact information you want to share with the general public are on the top of the page. These will be printed as is for the exhibition's artist folder.
Important Dates:
Deadline to submit: July 15
Information of Acceptance: July 22
Drop off: Sunday, July 31– 1 to 4pm
Pick up: Sunday, August 28- from 3-4pm
NOTE: Pro Arts does not collect a commission on work sold.